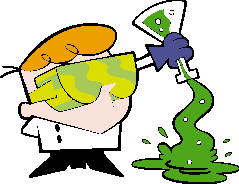 DeeDee!! Get out of my laboratory!!!!! -
Dexter
You are stupid! You are Stupid! And don't forget....You are STUPID!!-
Dexter
Ha ha ha. Ha ha ha ha ha ha.-
Mandark
Dexter's a cookie! -
The Mechanical Parrot
Your right. Im not a beefy cake. Im just a, Just a cupcake. -
Dexter
Say no more, Dexter, oh ye of little mind. I'll save the day and take all the glory!
-Mandark
"Just because I like to have fun doesn't mean I'm stupid Dexter! I may not understand all that scientifical, mathmatical stuff; but I know how to dance, I know how how to pet a kitty, and I know how to tie my shoes Mr.zipper-boots! You toil away, alone in your lab, looking for answers to questions nobody asked. If you really want me to leave, I will! Good-bye Dexter, I won't bother you anymore."
-DeeDee
i just like it when he says "U R STUPEED!" the way he says it is funny.
-Dexter
"Why don't you go talk to trees, or whatever it is you do!"
-Dexter
Yes Dexter, I can read your thoughts. And I AM smarter than you.
-Mandark
Dexter, I am your father. Dexter: [Gasp] That's not possible! Oh wait, no, you are right. -Dad Dexter